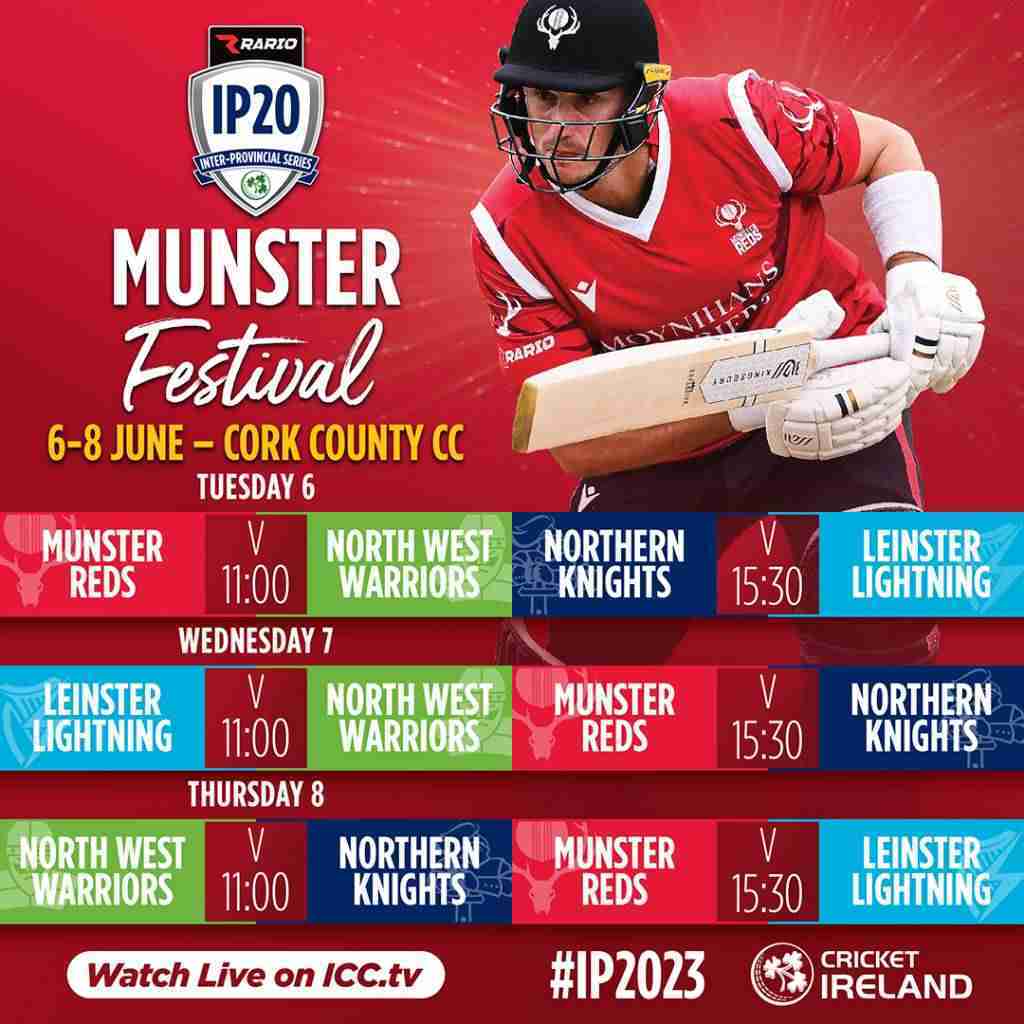 IPT20 festival arrives on the shores of our own lovely lee from the Tuesday the 6th of June until the 8th of June.
The Inter-Provincial Series is the peak domestic men's cricket competition in Ireland.
It is a competition between Leinster Lightning, Northern Knights, North West Warriors and Munster Reds.

The Munster Reds Squad for the Festival is as follows
Jeremy Bray – Head Coach
Ted WIlliamson – Assitant Coach
Tyrone Kane – Captain
Murray Commins
Ali Frost
Brandon Kruger
Liam McCarthy
Connor Fletcher – loan from Leinster Cricket Union
Joshua Manley – loan from Northern Cricket Union
Nathan McGuire
Nicolaj Damgaard
Ben White
Gareth Delaney
Mick Granger
Mathew Ford
Heres a bit of information about some of the new faces for the Reds in 2023
Nicolaj Damgaard – danish international who has a reputation as a seriously damaging ball striker who recently scored 100 off around 35 balls v Merrion in the semi finals of the t20. At 6 foot 4 his left arm spin is proving very challenging for the batters and has been a consistent wicket taker in the t20s going for very few runs. He will be a great addition to the Reds and filling the big shoes of Mike Frost who is a big loss due to exams.
Connor Fletcher – due to PJ Moors international commitments the reds have drafted in the very talentented Connor Fletcher from Balbriggan to take the gloves. Connor has been very dominant at the top of the order for Balbriggan and has had a taste of interprovincial cricket before. Connor will like Nicolaj be a great addition for the festival. * loan from Leinster Cricket Union
Joshua Manley – 2 years ago before he left the Reds, Josh Manley was on of the best performed players in the Interpros. We welcome back Joshua with both arms as we know exactly the high quality he will bring both on and off the field. * loan from Northern Cricket Union
Nathan McGuire– a former u19 irish international who brings an abundance of exciting talent especially with the bat. Perfect for the t20 format where he is offers both with the bat, ball and in the field. Very excited with Nathan's addition to the Reds for the remainder of 2023 season.