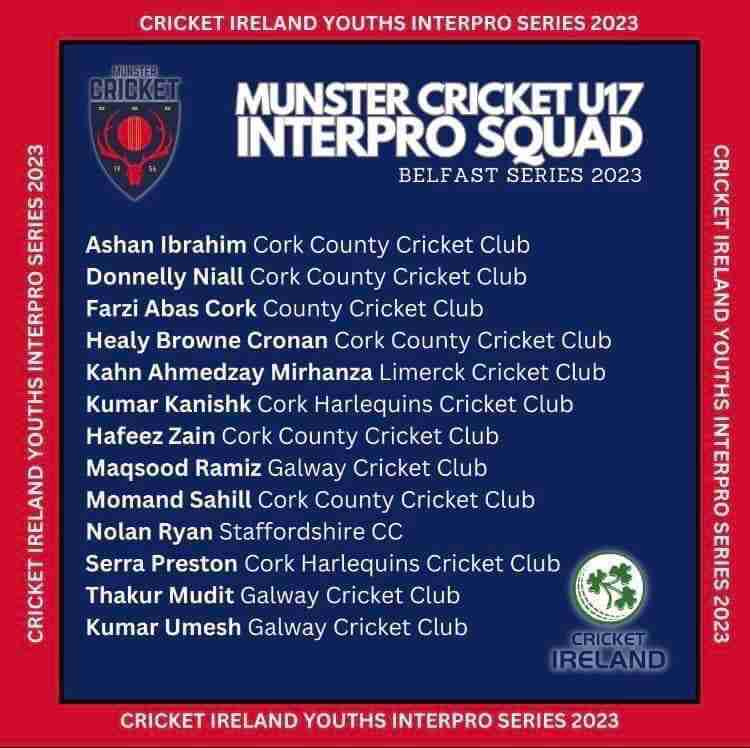 U17 Interprovincial 2023

The IP 50's U17 season concluded recently in Belfast with a good showing from the Munster lads. While victory eluded the team, they performed admirably and showed competitiveness in every game with tuff gritty fighting performances.
The Inter-Pros is vital in exposing our young players to the highest standard of peer cricket on the Island so that they can see and challenge themselves and work to become better cricketers. It is hoped exposure to this level of cricket can only enhance the standard of cricket in Munster and see these young players transition to the Munster Heat and Reds in future years.
Special mention must go to Mudit Thakur, who scored over 50 against a strong Northern Knight on the last day. Good performances from Kanishk Kumar and Ryan Nolan are also worth mentioning, and with
most of the players still U17, next season next year could be very interesting.
I would also like to thank the MCU and staff for supporting youth cricket in Munster. Having a winter programme for the first time has positively impacted the players' standard of cricket. While we constantly strive to improve, positive steps like this will only help improve standards

in Munster. It is also important to note the support of parents, who go above and beyond to support cricket in Munster; long may it last.
Len Browne (Manager MCU U17s)