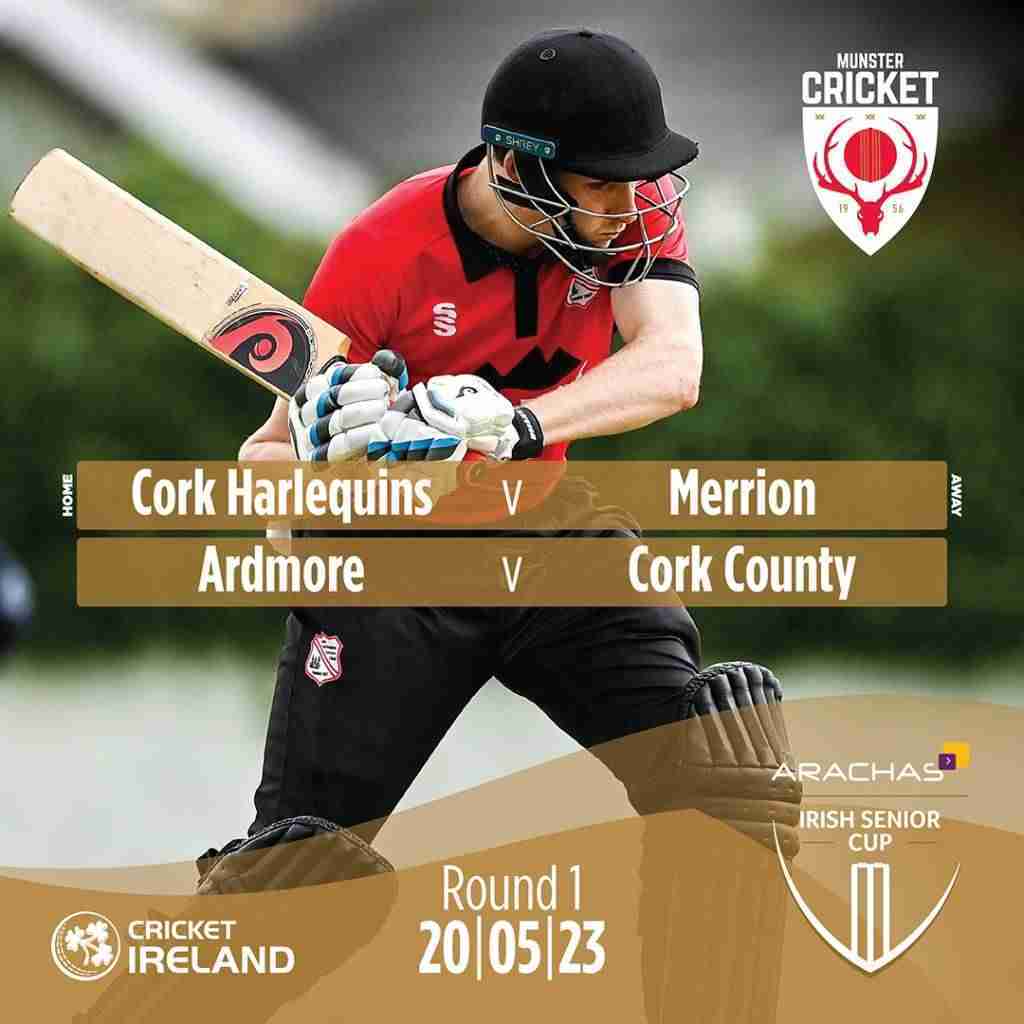 Ardmore v Cork County
Cork County will make the long trip to Derry to take on Ardmore in a repeat of the Irish Senior Cup first round encounter from 2003 where the Leesiders eventually prevailed. Ardmore have had a strong start to the season, defeating Killyclooney by 2 runs in a high-scoring thriller in the NW Senior Cup. Former Railway Union player Rachit Gaur scored an unbeaten 141 in that match and has fond memories of games against Cork County for his former club. Allied with the all-round talent of Aviwe Mgijima and NWCU Warrior Harry Zimmerman, the home side will go into the match as favourites, particularly given home advantage at the Bleachgreen. However, Cork County will travel North quietly confident of causing an upset having started the season in a rich vein of form. Victories over Limerick and Midleton in consecutive weekends showcased the ability within the Cork side and they will look to Stefano di Bartolomeo, Byron McDonough and new captain Muhammad Abubakar Saddique for the cutting edge in what should be a competitive tie.
Cork Harlequins v Merrion
Following last season's loss to Donemana, Cork Harlequins will be hoping for better fortunes on home soil when they take on Merrion. A narrow defeat to Galway was followed by a rain-enforced abandonment against County Kerry but the forecast is set fair for Farmers Cross on Saturday and the home side will seek to upset the odds against LCU Premier League opposition. Seanan Jones has started the season strongly for Quins while Ryan Joyce has recently been included in the Munster Reds squad and will be the key man with the bat for the hosts. Merrion's exposure to 50 over cricket has been limited to a 1 wicket loss to Railway Union in the Leinster Senior Cup last weekend but there is serious quality in the Anglesea Road side with Jack Carty and Swapnill Modgill fronting up, the evergreen Dom Joyce in the middle-order and former international Max Sorensen also involved. The visitors start as favourites on paper but this competition has seen plenty of shocks over the years and 2023 may be no different!
UCC v Cliftonville Academy
This is the second year in a row that UCC have been scheduled to host Northern opposition in the first round of the Irish National Cup with The Nedd forfeiting to the University side in 2022. Cliftonville Academy make the long journey south this year but with List A player Jared Wilson in their ranks they will be strong favourites on arrival to Curraheen. The home side experienced a significant player turnover during the winter but key players Navam Gupta and Siddarth Pushp have remained and will be central to the Students attempts to reach the second round.
County Kerry v St. Johnstone
Following an unfortunate drainage issue at the Oyster Oval, County Kerry have yet to play a home game this season and have struggled to make their mark on the road, losing out to Midleton in a low-scoring encounter in the first week of the season before being rained off in Farmers Cross the following week. The Kerry side have made light of bad form in the past however and with the mercurial Khuram Iqbal and Yaqoob Ali in their side, they will be confident of progression in this tie. St. Johnstone are something of an unknown quantity but suffered a chastening 9 wicket defeat to Eglinton in the NW Senior Cup last week. Kerry v Donegal is a more common tie in Gaelic Football than cricket usually but this is likely to be as keenly contested as any GAA Championship match.
Midleton v Civil Service
This will be first meeting between these two clubs with Civil Service having recently joined the ranks of the LCU Championship. Their early season form has been poor but given the calibre of opposition, that is unsurprising. The Phoenix Park club ran into a batting whirlwind at Rush last weekend and have failed to win a match in the Alan Murray Cup. Nevertheless, they go into this match as favourites and it will take a strong batting and bowling effort from the home team to cause an upset. Skipper Zuhair Shah and Christian Laubscher will be key for Midleton while top-order batter Majid Khan has an impressive record in National Cups, scoring two centuries in the past four years.
County Galway v Limerick
These teams know each other very well with County Galway having been involved in the MCU Premier Division for the past few years but representing the Connacht Cricket Union in this competition. The home side started the season in excellent form with a victory over Cork Harlequins before having their momentum halted by a rain enforced abandonment against Saturday's opposition. Subramanaya Ramnathpur will be the main man for the Galwegians as they look to advance to Round 2. Limerick will be looking to emulate their National Cup final appearance in 2018 and will be led in that endeavour by skipper Arslan Anwar. The Adare based side have a varied bowling attack and will be looking to make early inroads in what should be a highly competitive game.