The end of a long season is in sight as we come down to the final few games in each limited overs league with championship titles still to be decided.
This has been the biggest season of Munster Cricket, with more games and activity at all levels across the province and beyond, with our clubs & representatives having competed in a total of 351 games to date with three weekends still to go.
The sheer volume of statistics speak for themselves:- 

Division 4
Just one game to conclude Division 4 with Clare 2nds traveling to Oyster Oval to take on Kerry 4ths this Saturday 10th september, playing for second place in the league. Huge congratulations to Limerick Blasters 3rds, who win the title with an unbeatable 82% points total. 

Division 3
All still to be decided with six games still to play over the next three weekends and realistically with four teams still able to take the title, it looks like an exciting finish. Last week, Clare 1sts kept themselves in the mix with a comprehensive 8 wkt win over Harlequins 4ths, but will still be hoping for other results to go their way.
Cork County 4ths & Waterford had their game rained off to keep both teams tied at the top, whilst up the road in Lismore, the visitors Clonmel kept up the pressure on the leaders with a six wicket win. So with unsettled conditions forecast this Saturday, we have two crucial games.
Cork County with 3 games still to play, travel to Clonmel & Waterford to Harlequins. A win for Clonmel would see them gain precious % points on the leaders but they will still realistically need Quins to do them a favor down at Farmers Cross.
County & Waterford both just need to win with as many bonus points as possible, Cork having the harder job, as they need to repeat this result in the two following weekends.

Division 2
There are five games still to play. Last weekend saw wins for Clonmel 1sts by 146 runs away to Blasters 2nds and Kerry 3rds win at home by 4 wkts over Limerick 3rds. These two results kept the title race alive with both Limerick teams out in front, but with Nenagh 2nds & Cork County 3rds close behind.
This Sunday Blasters travel to third placed Nenagh 2nds and down at the Mardyke, Limerick play Cork County. In what is a double header title decider, a big win by any of the four teams could secure the trophy, with Cork County the only of the sides with an additional game in hand. Results could see the title decided on the last game of the season, in the Mardyke on the 25th.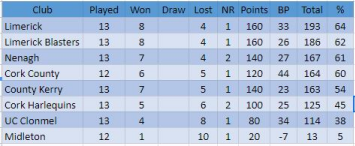 Division 1
Last Saturday saw three games lost to Rain leaving the only result being Nenagh 1sts away win by 8 wkts to Blasters 1sts.

There are still seven games to be played over the next three weekends, but any permutation of results will not change the top of the table. Congratulations to Cork County 2nds who are Division1 Champions.

There is still plenty of action to take place & UCC will be hoping to defend 2nd spot from Blasters.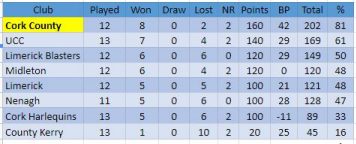 Premier Division
2022 is setting up to be one of the most competitive championships for many seasons, with seven games still to play across three full weekends.
This Sunday Harlequins travel to 3rd placed Kerry with an 8% point lead in the table but with a third of their games still to play. Up in Adare Limerick host Midleton.
Overall any of the top four sides can still walk away with the trophy on the 25th September and the unsettled weather may yet play a part.

Follow the games and scores on NVPlay.