My first memory of seeing the Lords cricket ground was when I went to see Ireland play England. I was 5 years old then. Now I am 14 and I was there this time to have some coaching at the Marylebone Cricket Club Academy. I was honoured to be there as one of two kids from Munster as I knew this was a great opportunity and I feel very grateful to Munster Cricket Union. I was both nervous and excited to head over to London.
My first day, I arrived early, waited in the café. As I looked out on the nursery ground, I saw the Middlesex team training, well known players like Eoin Morgan, Stephen Finn, Dawid Malan, Paul Stirling and Tim Murtagh were all there looking relaxed. It was fascinating to see a professional squad train up close.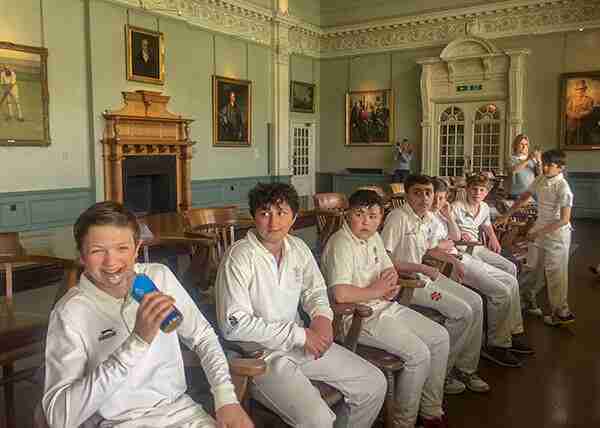 When I entered the training arena, I realised how massive it was. They had very advanced equipment like many bowling machines that could bowl different variations of seam and spin like the Merlin etc. We had 3 coaches and they started with an introduction to our day. We did some basic fielding and warm up drills. Harry Egerton from Waterford and I won both fielding competitions, this gave us confidence.
We got divided into different groups and we had a regular nets session where we took turns to bat and bowl. Most of the boys were 15 years old and were mostly from London. It was good to see the standard for my age group in England. I was shown some technical things that I could adjust with my batting and bowling. We concluded the day by playing a mini game. I was on a hat trick and finished with 5 wickets. I only got to face 4 balls and I scored 12 runs. I felt confident at the end of the day and went home tired, but I was excited about going back for the second day.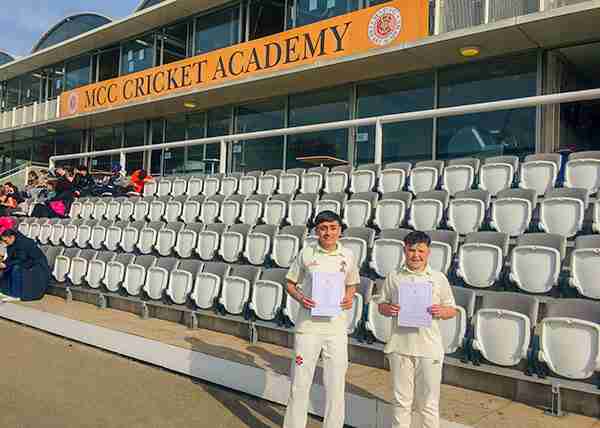 I had to wake at 6:30 am, carry my kit and travel for an hour and a half in a crowded train and tube to get to Lords. I was lucky that the sun was shining both days. This meant we could start Day 2 by training on the Nursery before the Middlesex team came for their session. This was a real treat. The grass was green and neat, the wicket looked really nice and we were allowed to field against the backdrop of the famous Lord's Media Centre. Again, the Middlesex stars were all around and it was unbelievable that we were sat next to them. We padded up and this time the coaches had set up 8 nets, each net had a different drill. 7 of the nets had a bowling machine.
I enjoyed all the nets. I loved 'the Paceman' the most as the ball was set to 70 miles per hour and it was a joy to face. It could swing sometimes, and I loved that! I really like it when the ball comes on to the bat. After lunch they took us on a lovely tour of Lords, we sat in the high chairs in the famous Long room. There were so many memorabilia from the past. I even got to go to the English dressing room which has been done up for the upcoming World Cup.
I got to stand on the famous balcony too. The dressing room had all the statistics of the famous players. They told us that we too could aspire to play for the MCC when we turned 18. We would need to show our potential and if the selectors felt there was some promise then we would get in and that would mean we could play for 5 years and become a member of the MCC. I know that is a big ask but I could not help but leave dreaming about how exciting things could be. I also left feeling more determined to keep improving my game and do whatever it takes to be good.
The 2019 season is about to begin, and this is where I must start, playing for my club, Cork County, maybe even for Munster and then hope for the best. I cannot wait!