The opening game of the ODI series between Ireland and Australia, which was abandoned due to rain didn't dampen the spirits of the girls across Munster who attended the match.
Ali Nolan from Cricket Ireland who kindly invited the girls from Munster to be mascots said,
"It was really brilliant to have the young cricketers from Cork County, Cork Harlequins, Galway and Limerick to Clontarf today to support our Girls in Green.
Unfortunately, they didn't get out onto the field as mascots because of the rain but they had a great time playing cricket together, making new friends and meeting the Irish and Australian players. The opportunity to meet and chat to their heroes in person at an international game brought great excitement to the day and we were absolutely stoked to welcome the girls along with their families and friends.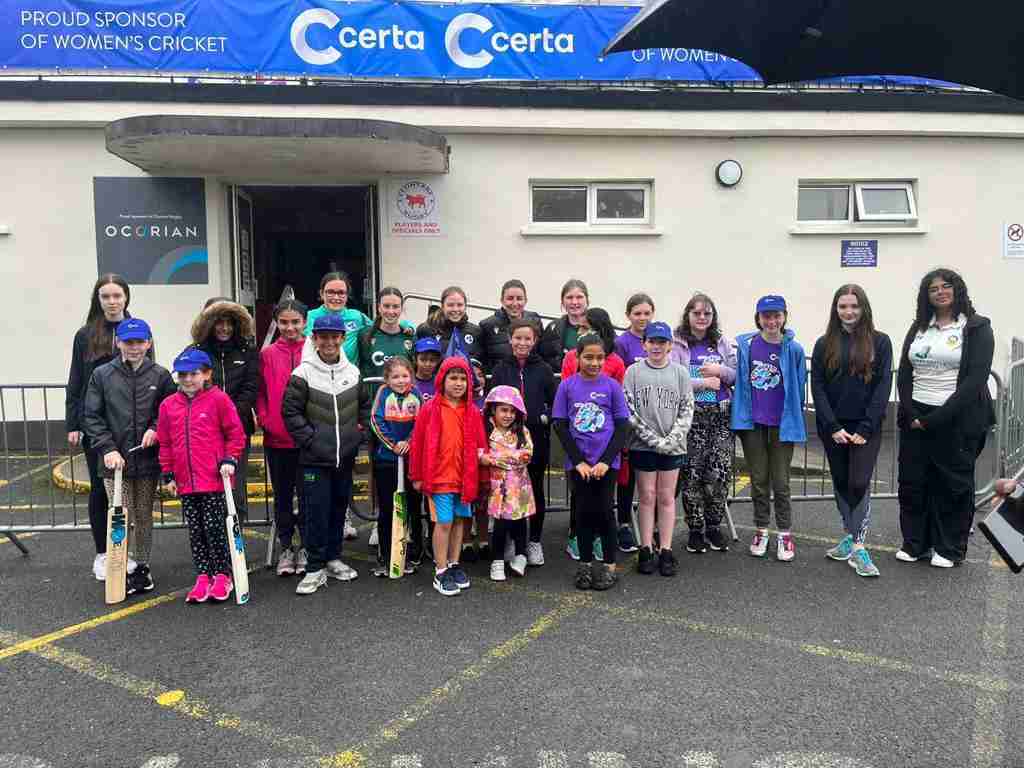 Massive thank you especially to all of the parents and guardians for making the trip up the road and we're looking forward to seeing you all again very soon.
Congratulations to the coordinators from each of the clubs for making today happen, it's a super time to be involved with female cricket in Munster!"
The families left the ground excited as they got to meet their idols in person, and some of the professional players took the time to get to know where the girls played and at which level. One was delighted to be given tips on how to improve her performances on the field.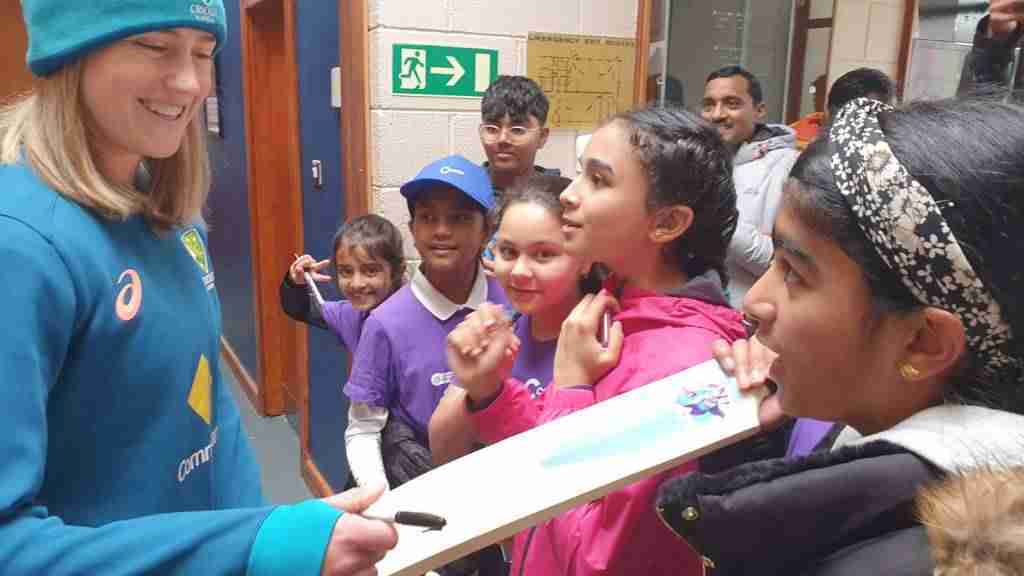 Such treasured memories will stay with the girls for a lifetime and we are hoping that they will increase retention rates for girls cricket across Munster.
Alex, a young girl, who plays cricket at Cork Harlequins said, "it was so exciting to get lots of autographs from the Irish girls team and I really hope I can represent my country some day!"
Danielle, also a youth player from Cork Harlequins said she had lots of fun and it was a great experience. "I loved meeting all the players and getting to play cricket with the other mascots. I do wish we could have seen the match." And her mother Órla added, "Brilliant experience for girls, their families and their clubs. Great to meet up in collaboration with other teams for Munster to support the ladies team. Getting to meet the players was a big highlight for girls. Really encourages them to keep playing and to support one and other. Well done to all involved in a great day."
Maria Van De Munckhof from Limerick County Cricket Club summed it all up by saying,
" even though the rain might have stopped the game today, it certainly didn't stop play as the Munster Mascot Girls played cricket in the rain together, with the help of Cricket Ireland organisers. The future for female cricket in Munster showed up, met their heroes and still played cricket. I was encouraged to be there and witness it ."
And Rashi, the mother of an aspiring cricketer was thrilled to be part of such a wonderful experience. In her owns words, she adds, "today proved to be an unforgettable day as we had the privilege to meet and interact with International women cricketers, leaving us all filled with warmth and joy. The experience was particularly significant for my daughter, Iraira, who aspires to be a cricketer herself. Spending time with her ultimate role models, receiving words of encouragement, and collecting autographs etched precious memories in our hearts. It has reignited her determination to pursue her cricketing dreams with even more fervor. This remarkable day served as a powerful reminder that dreams do come true for those who believe in themselves and their passion for the game."
Giving girls an opportunity to participate in international matches enables them to develop a deeper passion for cricket, with a positive impact on retention rates and enabling MCU to develop the game for our girls.
The Galway girls enjoyed their day out, as Evelyn from County Galway Cricket Club praised the passion of the game from her youth members. She said, "It was the first International cricket match for most of Co. Galway CC's girls. They all got to meet and take photos with their favourite players. Despite the rain the Galway girls thoroughly enjoyed the day, one girl even returning on Tuesday eager to see Ireland play the world champions Australia."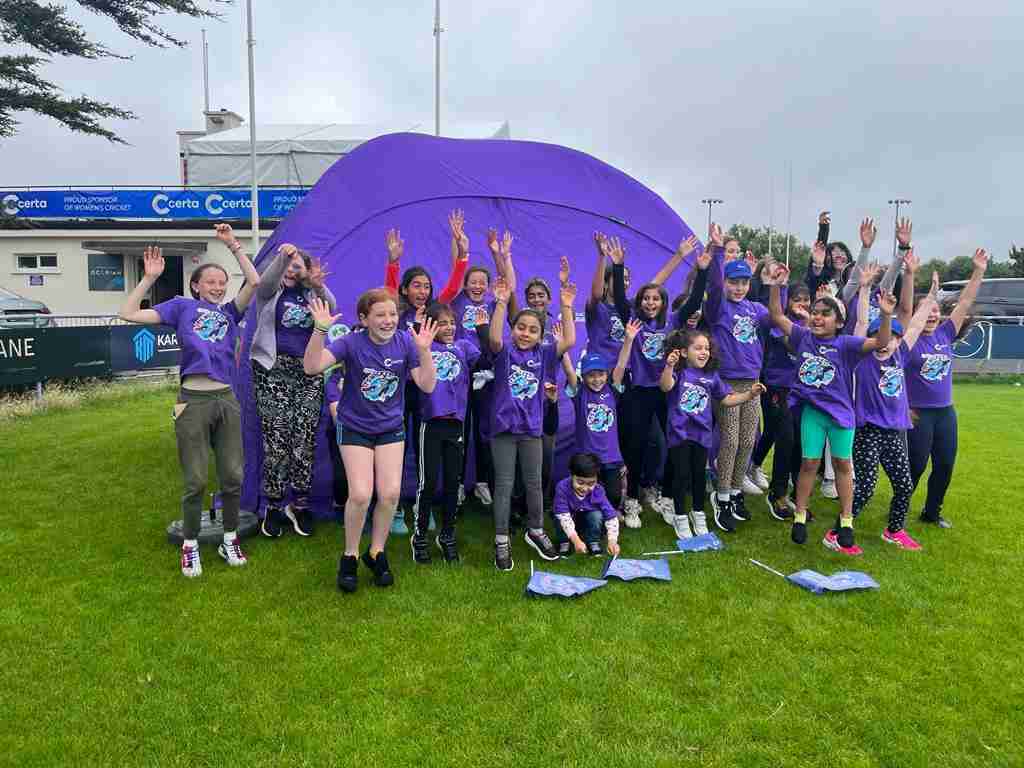 Joe Moynihan, of the Munster Cricket Said – We are keen to ensure there are opportunities available for girls to participate in cricket across the Province and are delighted to hear how this event has had such a positive impact on girls and families. We are currently working hard to develop youth cricket in the provence. Hopefully in the future these girls could be the next Laura or Gaby, but from Cork or Kerry instead of Dublin . In order for cricket to trive in the country, we have to give aspiring cricketers the same oppertunity no matter what part of the country they are from"
Please contact Munster Cricket Union if your cricket club would like any support and advice on how to set up and establish the girls game at your club